++ Dieses Preview wird stetig aktualisiert, bookmarken und teilen erwünscht ++
Der Festivalsommer 2015 kann kommen und ganz vorne mit dabei wird auch wieder das Hurricane Festival spielen. Es findet 2015 vom 19.-21.06.2015 und bereits zum neunzehnten Mal am Eichenring in Scheeßel statt. Während der vergangenen Jahre hat das Festival international erfolgreiche Künstler, beliebte deutsche Acts und eine große Anzahl Newcomer, von denen einige heutzutage die Headliner-Position einnehmen, präsentiert. Seit 1999 findet parallel im Süden der Republik die kleine Schwester Southside Festival mit gleichem Lineup statt. Alljährlich treffen sich mehr als 100.000 Besucher aus ganz Europa bei den Hurricane & Southside Festivals.
Wie üblich haben die Veranstalter auch in diesem Jahr wieder einige etablierte Acts der Sonderklasse aufgeboten, aber auch vielen aufstrebenden Künstlern wird die Chance gegeben, sich vor vielen Tausenden Menschen zu beweisen.
Auch stilistisch ist man seiner offenen Einstellung treu geblieben und präsentiert sowohl Acts aus dem Pop-, Rock- und Indie-Himmel wie Placebo, Florence And The Machine, Farin Urlaub Racing Team, Alt-J, Noel Gallagher's High Flying Birds oder eine exklusive Casper Show mit DJ, als auch aus dem Hip Hop, Rap & Dance (Cro, Marteria, Jan Delay & Disko No. 1) oder deutlich härteren Gefilden (NOFX, Danko Jones, Every Time I Die). Zudem dürften Namen wie Archive, The Notwist oder Olli Schulz den einen oder anderen Musikliebhaber mit der Zunge schnalzen lassen und ein Act wie Die Antwoord wird die Zuschauer mit weit geöffneten Mündern zurücklassen. Es ist somit sicher wieder für jeden etwas dabei und viele der noch nicht so geläufigen Namen werden schon in Kürze womöglich in ganz große Dimensionen vorpreschen.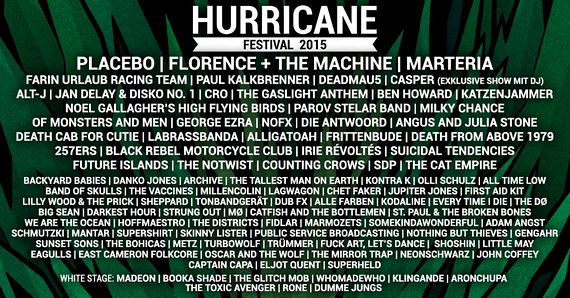 PROGRAMM:
PLACEBO · FLORENCE + THE MACHINE · MARTERIA · FARIN URLAUB RACING TEAM · PAUL KALKBRENNER · DEADMAU5 · CASPER (EXKLUSIVE SHOW MIT DJ) · ALT-J · JAN DELAY & DISKO NO. 1 · CRO · THE GASLIGHT ANTHEM · BEN HOWARD · KATZENJAMMER · NOEL GALLAGHER'S HIGH FLYING BIRDS · PAROV STELAR BAND · MILKY CHANCE · OF MONSTERS AND MEN · GEORGE EZRA · NOFX · DIE ANTWOORD · ANGUS AND JULIA STONE · DEATH CAB FOR CUTIE · LABRASSBANDA · ALLIGATOAH · FRITTENBUDE · DEATH FROM ABOVE 1979 · 257ERS · BLACK REBEL MOTORCYCLE CLUB · IRIE RÉVOLTÉS · SUICIDAL TENDENCIES · FUTURE ISLANDS · THE NOTWIST · COUNTING CROWS · SDP · THE CAT EMPIRE · BACKYARD BABIES · DANKO JONES · ARCHIVE · THE TALLEST MAN ON EARTH · KONTRA K · OLLI SCHULZ · ALL TIME LOW · BAND OF SKULLS · THE VACCINES · MILLENCOLIN · LAGWAGON · CHET FAKER · JUPITER JONES · FIRST AID KIT · LILLY WOOD & THE PRICK · SHEPPARD · TONBANDGERÄT · DUB FX · KODALINE · EVERY TIME I DIE · THE DØ · BIG SEAN · DARKEST HOUR · STRUNG OUT · MØ · CATFISH AND THE BOTTLEMEN · ST. PAUL & THE BROKEN BONES · WE ARE THE OCEAN · HOFFMAESTRO · THE DISTRICTS · FIDLAR · MARMOZETS · SOMEKINDAWONDERFUL · ADAM ANGST · SCHMUTZKI · MANTAR · SKINNY LISTER · PUBLIC SERVICE BROADCASTING · NOTHING BUT THIEVES · GENGAHR · SUNSET SONS · THE BOHICAS · METZ · TURBOWOLF · TRÜMMER · SHOSHIN · LITTLE MAY · EAGULLS · EAST CAMERON FOLKCORE · OSCAR AND THE WOLF · THE MIRROR TRAP · NEONSCHWARZ · JOHN COFFEY · CAPTAIN CAPA · SUPERHELD

WHITE STAGE LINE-UP 2015:
MADEON · BOOKA SHADE · THE GLITCH MOB · WHOMADEWHO · KLINGANDE · ARONCHUPA · THE TOXIC AVENGER · RONE · DUMME JUNGS

WARM-UP PARTY 2015:
ALLE FARBEN · SUPERSHIRT · FUCK ART, LET'S DANCE · ELJOT QUENT
Update 05.06.2015: Der Zeitplan ist online!
TICKETS:

Tickets gibt es inkl. 10 Euro Müllpfand und Zugpauschale unter www.hurricane.de bzw. www.southside.de.
Zufahrt zum reservierten Wohnmobilparkplatz mit WoMo-Plakette: 35,- € pro Fahrzeug.

GREEN CAMPING:
Informationen zum Grüner Wohnen 2015 findet ihr hier: http://www.hurricane.de/de/infos/gruen-rockt/
bzw. hier: http://www.southside.de/de/infos/gruen-rockt/

Die Bandbestätigungen im Einzelnen:

01.06.2015:
Casper (exklusive Show mit DJ) | Archive | Tonbandgerät | Big Sean | We Are The Ocean | SomeKindaWonderful | Schutzki | Nothing But Thieves | Gengahr | The Bohicas | Trümmer | Little May | Oscar And The Wolf | The Mirror Trap | Neonschwarz | Captain Capa | Superheld
White Stage: AronChupa

06.03.2015:
Ben Howard | Angus & Julia Stone | The Districts | John Coffey | Sunset Sons | Adam Angst | Marmozets | Fidlar | Hoffmaestro | Saint Paul & The Broken Bones | Catfish & The Bottlemen | Mö | Suicidal Tendencies | The Dö | Kodaline | Dub FX | Counting Crows | Irie Revoltes | Black Rebel Motorcycle Club | Death from Above 1979

05.02.2015:
deadmau5 | Of Monsters and Men | Die Antwoord | Death Cab for Cutie | LaBrassBanda | The Tallest Man On Earth | Antemasque | The Vaccines | Chet Faker | Jupiter Jones | First Aid Kit | Sheppard | Strung Out | Darkest Hour | Turbowolf | Shoshin | Metz | Eagulls
White Stage: Madeon | Booka Shade | The Glitch Mob | WhoMadeWho | Dumme Jungs
24.11.2014:
Placebo | Florence and the Machine | Farin Urlaub Racing Team | Paul Kalkbrenner | Marteria | Alt-J | Jan Delay & Disko No. 1 | Cro | The Gaslight Anthem | Katzenjammer | Noel Gallagher's High Flying Birds | Parov Stelar Band | Milky Chance | George Ezra | NOFX | Alligatoah | Frittenbude | 257ers | Future Islands | The Notwist | SDP | The Cat Empire | Backyard Babies | Danko Jones | Kontra K | Olli Schulz | All Time Low | Band of Skulls |
Millencolin | Lagwagon | Lillywood | Every Time I Die | Skinny Lister | Public Service Broadcasting | Mantar | East Cameron Folkcore

White Stage: Klingande | The Toxic Avenger | Rone

Unsere Festivalberichte vom letzten Jahr fndet ihr hier:
Hurricane Festival 2014
Southside Festival 2014
Der Trailer zum Hurricane Festival 2015: