On "All Saints' Day" the Orkus International Festival Tour made their stop in Krefeld at the Kulturfabrik. DOPE STARS INC. were the opener for this event and they gave the audience a taste of what unvarnished rock sounds like nowadays. It wasn't my cup of coffee though, too much posing and musically just not my style, but some people in the audience really seemed to like them. As far as the posing goes, they reminded me a bit of Jesus On Extasy, but soundwise more retro and rough. The second band and my personal highlight of the night was KIRLIAN CAMERA! And the italian band was nothing less than impressive! Wonderful sounds, a great atmosphere and with Elena Alice Fossi a very disarming front-woman. The set was based on songs of the various band eras and finished by a wonderful version of their biggest hit "Eclipse". Official headliner of the evening was LONDON AFTER MIDNIGHT, who have just returned to the biz with their new album "Violent Acts Of Beauty". Band leader Sean Brennan was in the focus most of the time and presented a nice mixture of old and new songs and of course "Sacrifice" was the last track to end this interesting little festival.
Pictures of the event can as usual be found in our concert pictures section or right here by clicking on the band-names:
Kirlian Camera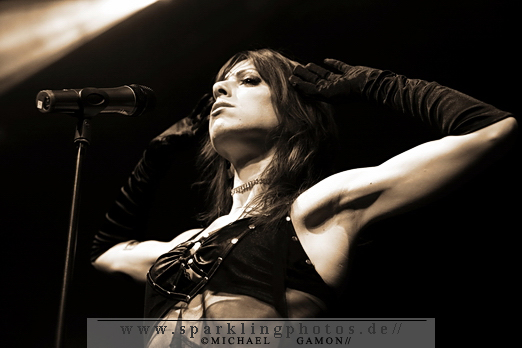 London After Midnight



Dope Stars Inc.